What is the UX Design Process?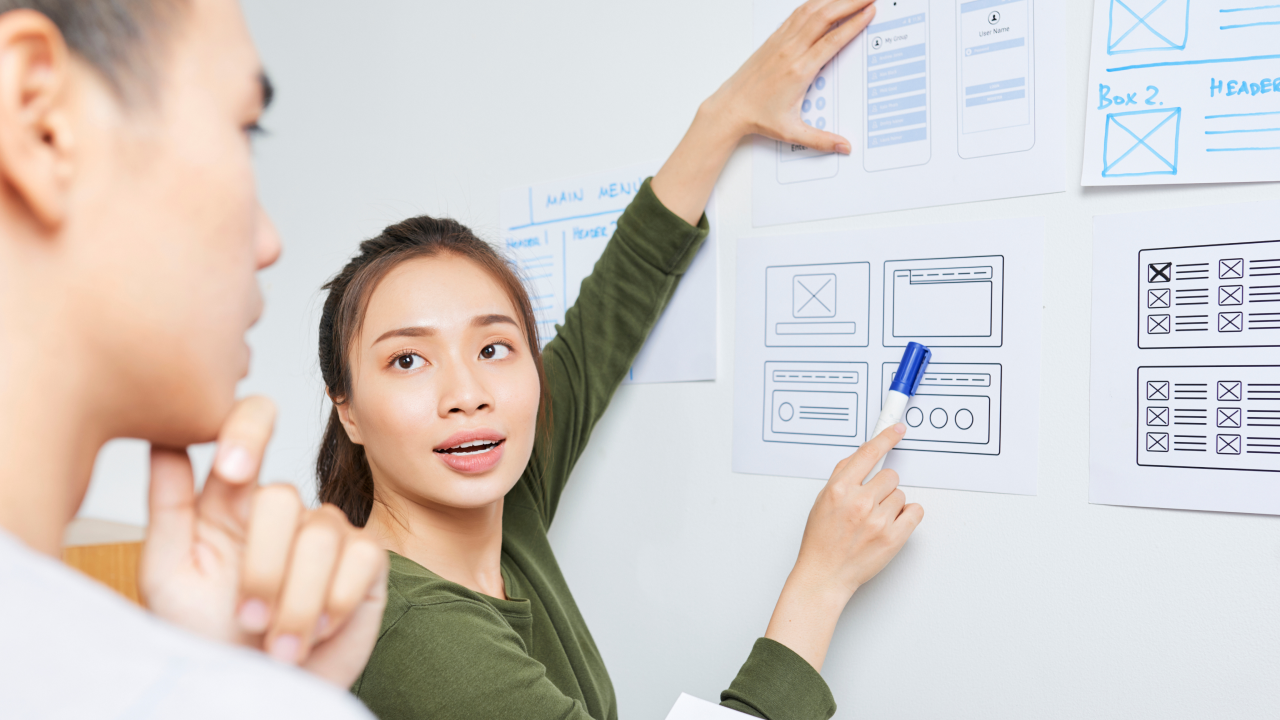 New to UX design and want to understand the steps needed to finish your product? In order to create a product that solves the user problem, has an incredible user interface, and overall nice design you need to follow a design process. Learn how to use the design thinking process in your projects from start to finish.
What is Design Thinking?
Design thinking is a user-centered approach to problem-solving in design fields. This concept is not unique to UX design. Design thinking is also found in the architecture and engineering fields. In UX design, design thinking is categorized into six phases: Empathize, Define, Ideate, Prototype, Test, and Implement. See how professional designers get through each phase.
The Six Phases of UX Design
1. Empathize
In the emphasize phase the designers connect with their target user base and conceptualize their needs. Research is used to collect information on the user. Research methods include surveys, interviews, competitor audits, and case studies. Surveys can quickly provide data surrounding the user's thoughts and views surrounding a particular subject. They are also relatively easy to conduct. Simply create a survey on a google form or use social media. Interviews are a structured and more formal way to attain data. Ask open-ended questions in interviews to better understand what the user needs. Competitor audits are a great way to check your competitors' performance with a similar project. See how their users react to their product. Identify the positives and pain points users experience with the competitor's product. Case studies are also a great way to collect information on past projects.
2. Define
After you collect data about your users it's time to clearly define the user problem statement. The user problem is the summarization of user pain points. The define phase is also where you come up with your project's goal. After your goal is clear you can then progress to the next design thinking phase.
3. Ideate
The ideation phase also known as the brainstorming phase is where designers plan their projects' look and function. Ideation methods include Crazy 8's, storyboards, journey maps, and sitemaps. With crazy 8's you create eight sketches of your possible design layout. Storyboards are paper or digital panel simulations of the user's interaction with the product. Use big-picture storyboards to focus on the user experience and close-up storyboards to focus on product navigation. Journey maps outline the users' steps to reach their desired goals. Whereas sitemaps show the site's overall user flow.
4. Prototype
After the ideation phase, the next step is to create an initial prototype. This prototype is built out of wireframes. The low-fidelity prototypes are used to mimic its product's initial design and navigation. Low-fidelity prototypes are created to test the functionality of your initial design. After you conduct a usability study, mockups are created to advance the design into the final stages. Mockups are then transformed into high-fidelity prototypes that closely reflect the final product.
5. Testing
Usability tests are conducted on low-fidelity prototypes to test functionality. The testing format depends on the company's resources and needs. An unmoderated test is not guided and allows the user to freely explore the prototype. Moderated tests are more structured and users have someone observing and possibly guiding them through the product use. Both tests could produce quality feedback from the users.
6. Implementation
Once designers receive feedback from their usability study it's time for implementation. They organize your user feedback and create a hierarchy of prioritization. Next, there are adjustments to the product design and function. New mockups are now available with new and improved functionality. The final step is to create a high-fidelity prototype that supports the user's needs. At this phase, the product is now ready for development.
Learn more about UX designer roles and responsibilities.
Completing Projects on a Tighter Deadline
Design Sprints
The typical design process can range from two to six months. But what if you need to get a prototype out in just a week? Design sprints are a quick and efficient way to expedite and project. However, the success of a design sprint relies on organization and teamwork. A design sprint is a five-day process. Let's see what is accomplished each day. Day 1 is where the team maps out their design sprint goals. Understanding the user and defining the user problem are also accomplished. Day 2 is the sketching process. The team agrees on the product design. On day 3 the team decides on a design and adapts the sketches. Mockups are created. On day 4 the team creates a prototype and puts the final touches to their design. On day 5 the product is ready for testing or an initial developer handoff.
Design Sprint Phase
Day 1- Map
Day 2- Sketch
Day 3- Decide
Day 4- Prototype
Day 5- Test/Hand-off
Show Your Design Process
Case Studies
Document your design process through a case study. Case studies are a great way to keep up with your work, guide developers through your process, and help clients better understand the product. After each project, create a case study and then update your portfolio.
Check out Avocademy graduates' professional portfolios here.
Ready to Start Designing?
Schedule a free mentor chat to jumpstart your professional career in UX/UI Design!
Author:
Jamir Williams is an educator, writer and aspiring UX Designer. She likes her avocados in a spicy guacamole.